Vintage G-Plan Cabinet Furniture Ranges (1953 to 1969)
G-Plan began in 1953 with just one range of furniture, Brandon, finished in light or mid oak. Light oak was the fashionable look in the early 50s, mid oak, meant to appeal to traditionalists, was much less popular.
Consequently today most surviving Brandon is in light oak.
For collectors it is important to establish which range a piece comes from. This is our summary of the main G-Plan ranges from 1953 to 1970.
E Gomme introduced new ranges to keep up with changes in fashion. A combination of rich African mahogany and ebonised finished details, 'Tola and Black', was their next range. In the early 60s, Donald Gomme, the brains behind G-Plan, left the company and the firm lost its way. They launched a number of different ranges to attempt to please to all tastes. Donald's brother, Lesley Gomme, eventually brought things back under control towards the end of the decade and rationnalised the ranges concentrating mainly on the new Fresco range in cabinet furniture. Below is some examples and information of the G-Plan Furniture Ranges.
Brandon
Launch date: 1953
Finish: Light or mid oak
Designer: Victor Bramwell Wilkins
Features: Splayed legs, wooden handles, simple style
Brandon was the first range of G-Plan launched in 1953.
Brandon was finished in light oak, which is by far the most common; although there was a darker walnut finish, which is comparatively rare. At the time Gomme choose to hedge their bets by adding a darker range of furniture to the more contemporary light oak.
Illustrated, right, is a room setting from the Brandon range in light oak. It shows both dining room and sitting room furniture. In the foreground is a dining table.
The dining room is separated from the lounge by a room divider. It was popular to feature the idea of open plan living.
Chinese White 
Launch date: 1956
Finish: Light oak and white
Designer: Unknown
Features: Wooden handles, white drawers or cupboard doors, some brass fittings. Pieces sometimes have black ebonised legs.
Tola and Black 
Launch date: 1958
Finish: Tola (African Mahogony), ebonised legs
Designer: Unknown
Features: Brass fittings
Tola and Black was a new glamorous range for the late 50s. It is sometimes found without the ebonised legs, with the furniture finished in tola only.
Limba
Launch date: 1960
Finish: Honey coloured limba (an African wood) with metal legs
Designer: Lesley Dandy
Features: Very severe minimalist design
Although very much in the modern style, Limba did not work for G-Plan. Stag's C-Range of a few years' earlier was much more successful. By the end of the fifties people were looking for more bling and found Limba a bit too reminiscent of office furniture.
G-Plan Decorated
Launch date: 1961
Finish: White lacquer and pale grey laminated plastic decorated with plants in a Chinese style
Designer: Lesley Dandy
Features: Chinese style
G-Plan Decorated brought a more feminine look to the bedroom. Inspired by period Chinese pieces finished in lacquer, G-Plan Decorated combined modern style with a traditional finish. It was a break with Gomme's modernist approach to G-Plan.
New Tola
Launch date: 1961
Finish: Tola with brass handles and wooden legs
Designer: Lesley Dandy
Features: Low long look
The new Tola (Oak finish was also available) was influenced by the Scandinavian trend of long low sideboards. However, the finish in Tola was similar to other Gomme pieces. The range included G-Plan's longest sideboard (model number 4007) which measured 7 feet 3 inches. There was a smaller 4 feet 9 inches sideboard (4005) with a similar finish. There were also two dining table options: an extending table (4305) and a drop leaf table (4310). Gomme was a little behind the times with this range. Competitors MacIntosh and Austinsuite had already started marketing teak ranges with a Scandinavian look.
G-Plan Group 3
Launch date: 1962
Finish: Oak and teak veneers, or all teak from 1963
Designer: Richard Young
Features: Simple style
Group 3 was inexpensive furniture designed for flats and small houses. Aimed at the young end of the market, it was also modern and well designed.
G-Plan Danish
Launch date: 1962
Finish: Teak or Rosewood
Designer: Ib Kofod-Larsen
Features: Top quality finish. Teak furniture had rosewood handles Some sideboards had leather handles.
G-Plan introduced Danish in 1962 in response to competition for Scandinavian imports. It was a move upmarket for Gomme and today G-Plan Danish is Gomme's most sought after range.
G-Plan Danish by Ib Kofod-Larsen is amongst the most desirable of all retro style furniture.
Gomme introduced the G-Plan Danish range in 1962 in response to intense competition from genuine imported Scandinavian furniture. All the design work was done by the Dane, Ib Kofod-Larsen and the majority of this furniture bears the G-Plan Danish stamp with his signature.
G-Plan Danish was finished in classic teak with details, such as the handles, being in rosewood. There were some pieces made predominantly in rosewood. As was common with most quality furniture of the era, the solid parts, e.g. the legs were made in solid afrormosia, with some elements in beach.
The original range included the following pieces:
4020 – sideboard 7ft 6 in in teak, with sycamore interior and square handles in rosewood, cost then £61 10s
4021 – sideboard 5 ft 6 in with similar finish (illustrated above), cost £47 10s in 1962
4320 – extending table capable of seating ten people, top teak frame and legs in solid afrormosia
8022 – teak trolley
6243 – three seater settee
6241 – matching easy chair
6245 – low backed easy chair
6247 – TV (armless) easy chair
Dining chair with curved rosewood back
8730/8731 – low open bookcases
Gomme was able to manufacture these designs to their usual high standards, although G-Plan Danish was somewhat more expensive than their other furniture. Consequently it is rarer.
Ib Kofod-Larsen designed another range of furniture for Gomme in 1966 under the G-Plan Danish label. The most impressive piece was a 6 ft 4 in sideboard veneered in Rio rosewood. It featured thin elegant legs in solid rosewood and two large circular handles finished in leather. The sideboard sold for £85 at the time. There was also a teak version of the same design selling for £65.
To be one hundred percent certain a piece is genuine G-Plan Danish, look out for the G-Plan Danish label illustrated above.
The G-Plan Danish label was used on pieces designed by Ib Kofod-Larsen. It carries his signature and the words 'DESIGNED BY IB KOFOD-LARSEN, G-PLAN DANISH DESIGN, MADE BY E GOMME LTD, HIGH WYCOMBE, BUCKS'.
Look out for this label on pieces attributed to Ib Kofod-Larsen.
G-Plan Collector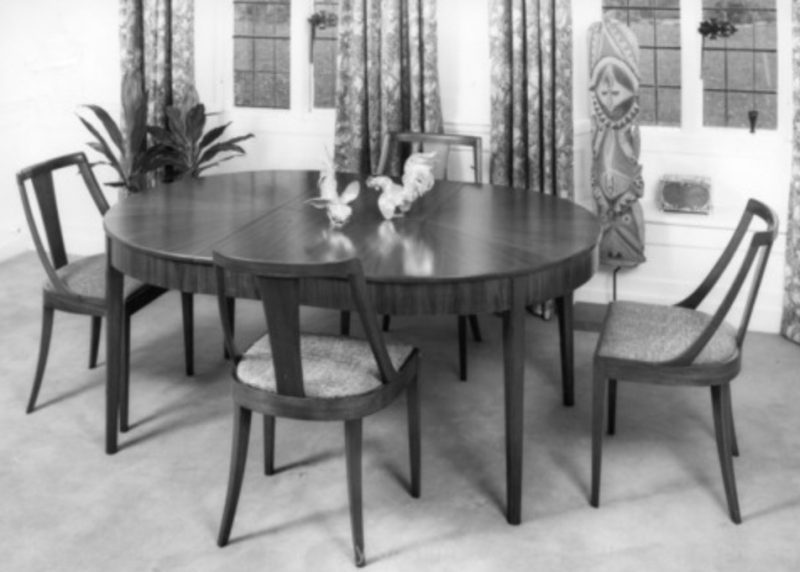 Launch date: 1962
Finish: American walnut
Designer: Unknown
Features: Rounded off square metal handles, panel doors
Gomme was very active with new ranges in the early 60s. Collector was more traditional looking than contemporary G-Plan.
G-Plan Young Idea (Bedroom)
Launch date: 1963
Finish: Light oak with walnut rosewood and white lacquer contrasts
Designer: Richard Young
Features: Built-in type furniture
This new range of bedroom furniture for 1963 was designed to look built-in. The range included chests of drawers, dressing tables, wardrobes, cupboards and headboards.
G-Plan Country Style
Launch date: 1964
Finish: Bleached oak
Designer: Richard Young
Country Style was plain furniture finished in natural oak. It followed the trend of pine finished kitchens which was just beginning in the mid sixties.
G-Plan Quadrille
Launch date: 1965
Finish: Teak
Designer: R Bennett
Features: Simple style, teak finish handles, similar to Fresco, but smaller.
Quadrille was modern bedroom furniture in a simple style and teak finish.
G-Plan Fresco
Launch date: 1966
Finish: Teak
Designer: Victor Bramwell Wilkins
Features: Teak finish, sculptured look.
Gomme introduced Fresco in 1966 for the dining room. It had a sculptured look to it and the chairs had circular seats. This was one of Gomme's most successful ranges and remained in the catalogue for many years. V B Wilkins designed Fresco. He combined the pop art motif of the circle, seen on ceramics and other pieces from the 60s, with the newly fashionable sculptured look for furniture which came from Italy, with the Scandinavian style teak to produce the definitive G-Plan style.
The Fresco teak dining range was introduced in 1966, and comprised a circular table and four chairs, illustrated right above, and a 7ft sideboard (left above). The set was finished in teak veneer. The legs on the chairs and the legs and handles on the sideboard were made in solid afromosia.
At its launch you could buy the sideboard for £59 and the table for £34. All these pieces were manufactured well into the 70s. For 1969, G-Plan added more furniture to the Fresco range. There was a gate-leg table, a new design of chair and this 5ft sideboard pictured left. All were designed by V B Wilkins and finished in teak with similar style.
G-Plan Form Five
Launch date: 1967
Finish: Teak
Designer: R Bennett
Features: Teak finish, modern look
Form Five was a range of modern furniture in a simple minimal style introduced around the end of the 60s and exbanded in the early 70s. Gomme dropped the range by the mid 70s.
Vintage G-Plan Cabinet Furniture Ranges (1970 to 1979)
The G-Plan brand was a household name in the 1970s and the firm's mix of good design, quality and reasonable, but far from cheap, prices made G-Plan the brand people wanted to own. However, a conservative design policy meant that G-Plan had an increasingly ageing clientele. By the end of the decade, the typical G-Plan buyers were likely to be older couples replacing their G-Plan suite bought a decade or two earlier, rather than newly weds furnishing their first home together.
G-Plan was so successful that nearly every retail stand at the 1970 Ideal Home Exhibition featured G-Plan furniture. The luxurious looking G-Plan furniture was affordable to some and aspirational for many. Gomme's turnover and profits rose substantially in the early years of the 70s.
Gomme continued to add to and improve the highly successful Fresco range. G-Plan was meant to stand for design and the firm launched several new ranges in the 1970s. Some featured modern style unit furniture with smoked glass and hidden lighting. However, Gomme never followed the trend for pine furniture that was becoming increasingly popular in the 70s, nor the ultra modern tubular steel look.
They must have looked with envy at the Stag Minstrel range which was still selling well and had a loyal band of followers always willing to add new pieces. Gomme made a couple of attempts at Minstrel-like furniture, both with Foresta in the bedroom and Arcadia in the dining room; neither were long lasting.
Gomme had an attempt at another 1970s' craze, bamboo furniture. Their 'Thai' coffee table of 1978 missed the mark by a mile; it was machine made and securely held together with bosses rather than bound with vines.
G-Plan used to lead the way in innovation and design, but had lost its touch by the end of the decade when over sixty percent of G-Plan customers were over forty-five years old.
However, today's collector will find that Fresco furniture from the 1970s is just as good as that from the 1960s and gives many more options, including wall storage units and a choice of tables, sideboards and dining room chairs, as well as wardrobes and dressing tables. All of which were well made and finished in teak veneer.
G-Plan Fresco (1970s)
Fresco remained G-Plan's main range of furniture throughout the1970s. Gomme added many new pieces to the range. One the biggest editions was a range of Fresco wall units, new sideboards and new dining chairs. The circular dining chairs from the original Fresco range were dropped in the 70s.
The image at the top of this page shows the new style Fresco furniture introduced for the 1970s. The 1970 group shows a continuation of the original 1960s range, whereas by 1976 Fresco is starting to take on the look of the 70s. The pine dresser was a popular piece in middle class homes in the 70s; this Fresco dresser is trying to get the look. See also how the chairs have evolved from the original ones, with heavier frames, more organic than modernist.
G-Plan Libretto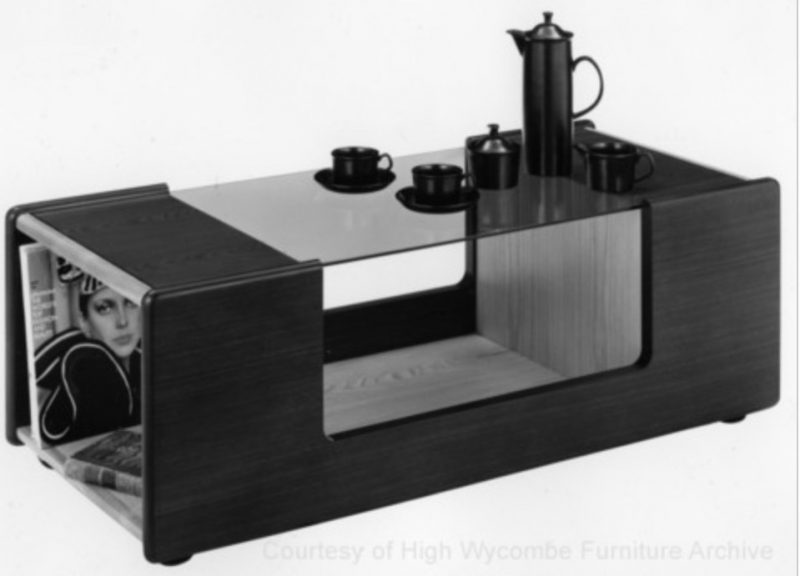 Launch date: 1973
Finish: contrasting aroline walnut and sen veneers
Designer: Victor Bramwell Wilkins
Features: Metal handles, concealed lighting, smoked glass.
The Libretto range was a significant departure. The wall units were finished in the exotic pale wood, seen in contrast to the dark walnut finish of the dividing panels. Some of the doors were bronze tinted glass. Bronzed, or more commonly smoked, glass was a feature of mid-seventies' furniture design. Several firms featured smoked glass windows in wall units. The smoked glass coffee table became a standard accessory in a 'seventies home.
The Libretto range also included unit seating. These chairs had low, rounded backs and square, flat seats. They came either without arms, or with a right or left arm.
Gomme dropped Libretto in the second half of the 1970s.
G-Plan Arcadia
Launch date: 1975
Finish: curl mahogany veneer
Designer: Lesley Dandy
Features: round shaped brass handles.
Arcadia, as the name suggests, drew inspiration from the past. It was a range of dining room and upholstered furniture finished in mahogany veneer. There was a feel of antique Georgian furniture to the range. However, being modern furniture from the 1970s, Arcadia included wall units.
G-Plan Montage
Launch date: 1977
Finish: contrasting teak veneers
Features: Flush panels with concealed handles; concealed lighting.
Gomme also introduced a new dining range, 'Montage' in 1977/8. It was finished in teak, plain and simple, but the treatment was heavier and unmistakably late 70s.
Montage was a short lived range and disappeared in 1980.
G-Plan Foresta (Bedroom)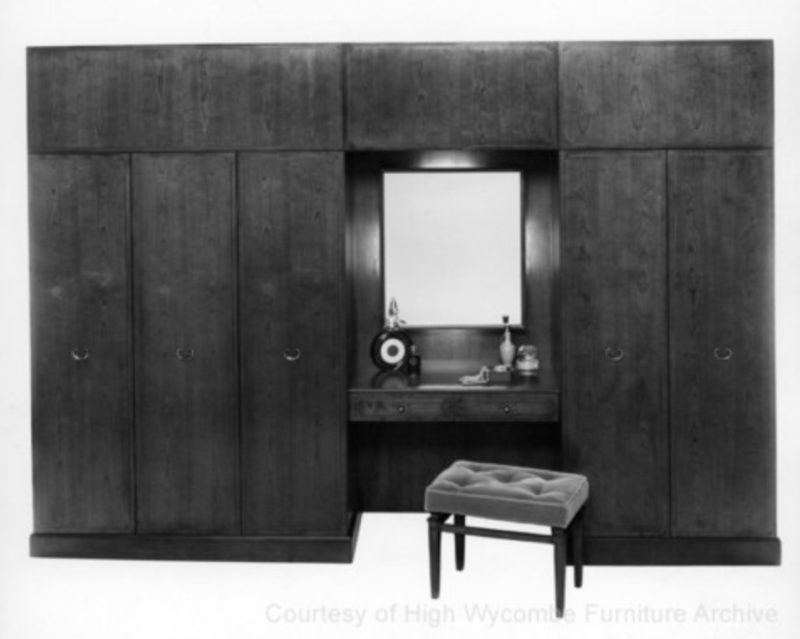 Launch date:

 1978

Finish: American cherry
Features: oval shaped metal handles.
Gomme's new bedroom range for 1978 was 'Foresta'. The G-Plan brochure talked about Italian provincial style, but Foresta bore more than a passing resemblance to Stag's successful Minstrel range.
It was finished in American cherry. The new dressing table had an inlaid brass image of a Japanese flowering cherry. The traditional style of the range had an appeal to the older buyer.
G-Plan Today
1996 G-Plan furniture is still made, although now by two separate companies – the Morris Furniture Group acquired the licence to make and market the Cabinet furniture in Glasgow. The upholstered furniture is made in Melksham, Wiltshire. The company, now based at modern offices near Melksham, Wiltshire, currently operates under the name of G-Plan Upholstery Ltd.